Moor's heads: a story of love and jealousy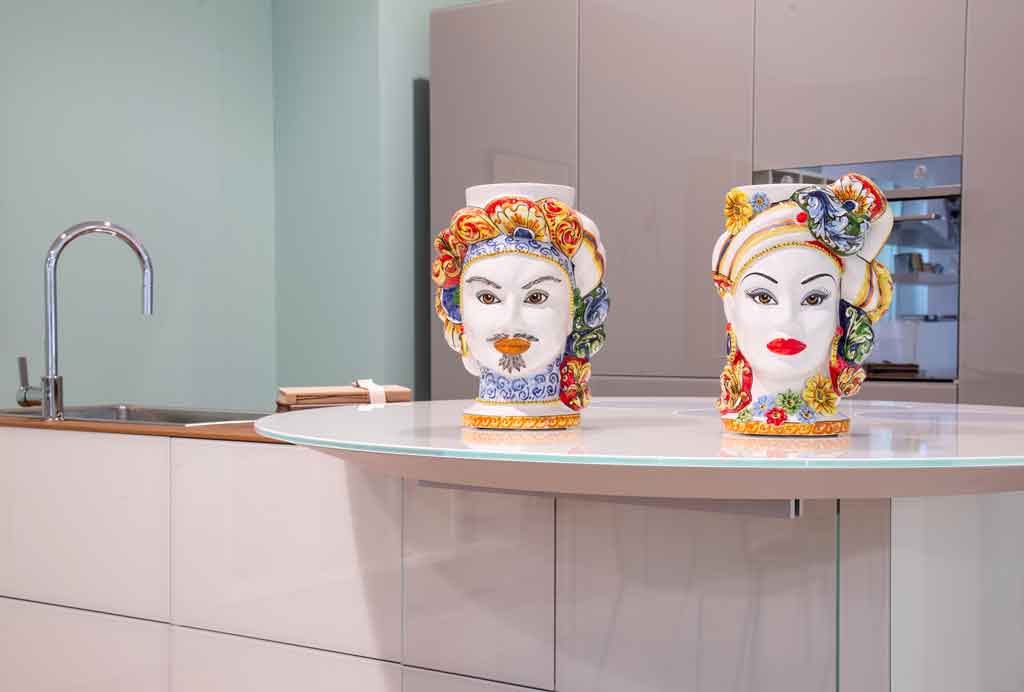 Le Moor's heads sono ormai uno dei simboli più noti della sicilianità, oltre ad essere diventati un oggetto di design dal grande pregio artistico frutto della tradizione artigianale di Caltagirone.
In Sicilia, anticamente si era soliti imbattersi in questi meravigliosi vasi di ceramica dalle sembianze antropomorfe, semplicemente passeggiando per le vie del centro storico.
La loro tradizione, infatti, è molto antica e risale ad una leggenda del 1100 che ha per protagonisti un affascinate Moro e una giovane fanciulla siciliana.
La leggenda narra che durante la dominazione dei mori in Sicilia, nel quartiere arabo di Palermo "alhàlisah" che significa "l'eletta", una fanciulla fu notata da un giovane moro che, sopraffatto da una violenta passione per essa, non esitò a dichiararle il suo amore. Vinta dalla promessa d'amore, lei lo accolse ricambiando il sentimento.
Noticed means "the chosen one", a sweet girl the young girl charmed by his promise of love reciprocated. However, the moor was hiding a terrible truth. He already had a wife and children back home.
Senza esitazione tagliò la testa del moro creando con essa un oggetto simile ad un vaso e vi pose all'interno un germoglio di basilico.
This aromatic plant has always had an aura of holiness as it represents the rulers' plant. In this sense, that terrible act was justified by her absolute love to continue to take care of her beloved young moor. Every day in fact, the tears of the young heart-broken girl watered the plant of basil that kept thriving and flourishing.
Così tutti i vicini, pervasi dal profumo e dalla bellezza della pianta, si fecero realizzare vasi in terracotta con la forma di teste di moro.
Our collections are inspired by the deities of love worshipped in different cultures: ISIS, VENUS, EOSTRE, AINE, APHRODITE, ASTARTE. Each collection represents an original and unprecedented way of engraving the raw material through an esploration of both form and colour. ISIDE, EOSTRE, AINE, AFRODITE, ASTARTE. Ogni collezione rappresenta un modo originale ed inedito di incidere la materia prima attraverso un'esplorazione tanto della forma quanto nel colore.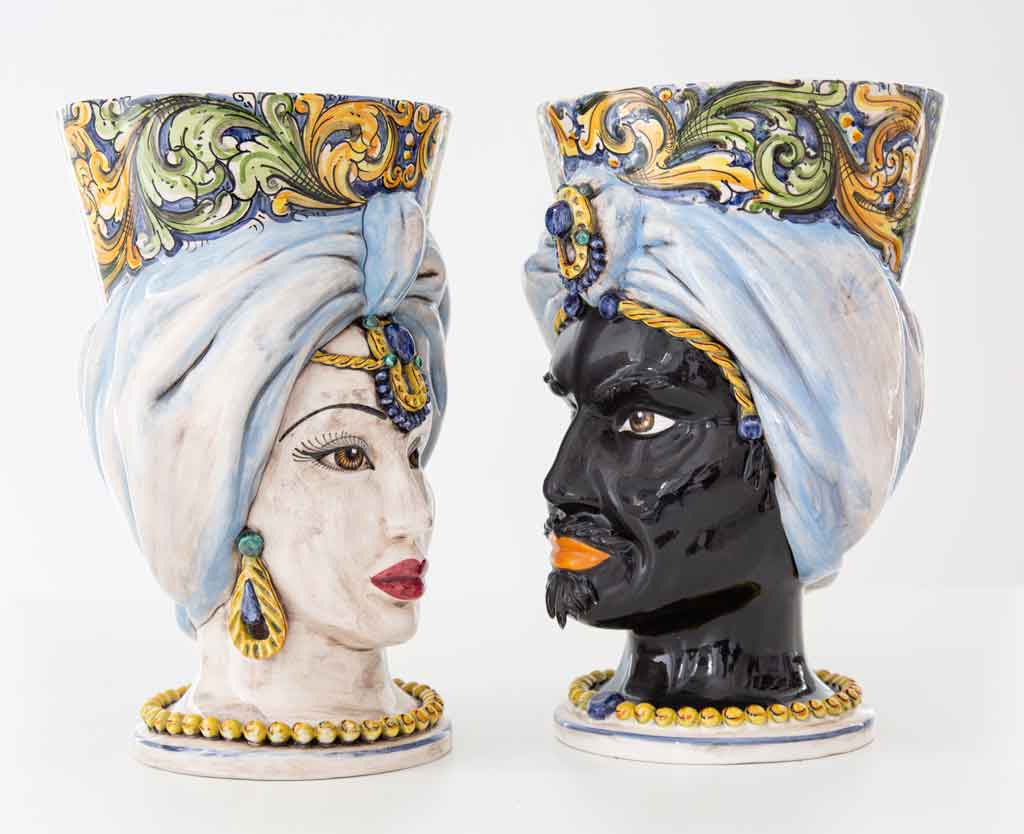 The Moorish Heads with typical decorations
Le teste di moro Agarèn si arricchiscono dei decori tipici della tradizione ceramica. I motivi prevalenti sono quelli ispirati al mondo vegetale, ai carretti siciliani, motivi geometrici e lineari per giungere infine all'ornato, tipico decoro di Caltagirone che predilige l'utilizzo dei colori giallo, blu cobalto e verde ramino. Tecniche e colori caratteristici la cui eco perdura fino ai nostri giorni.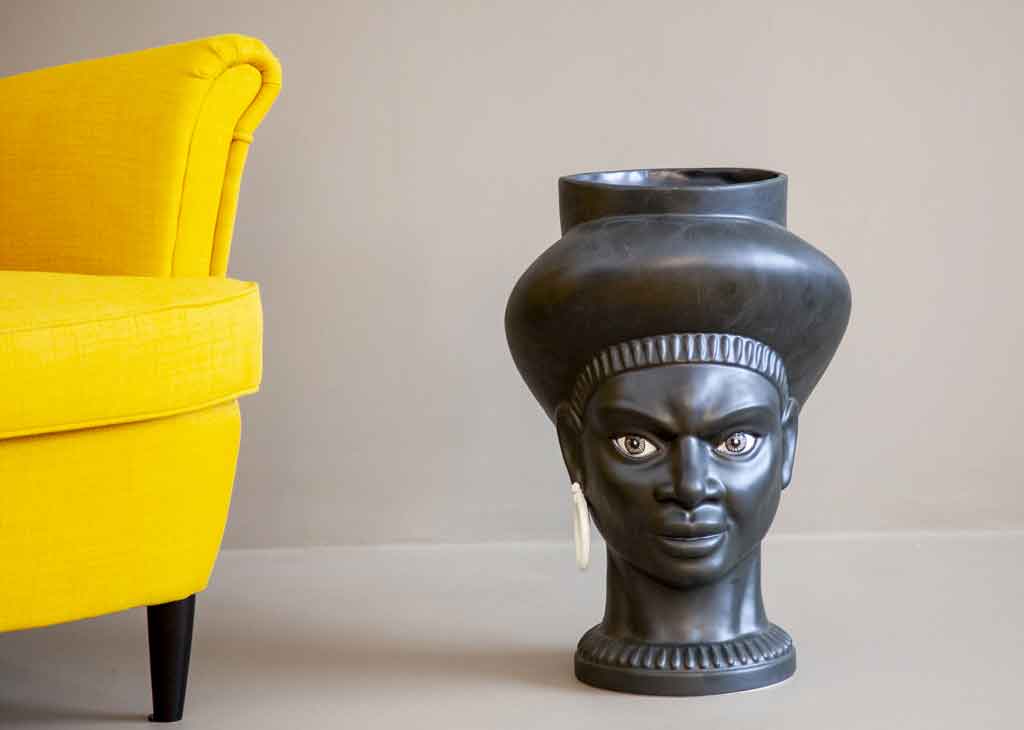 Monochrome Moorish Heads
è l'espressione di un'arte che al netto di segni cromatici esprime nella forma tutta la sua bellezza. Il bianco e il nero, lucido o opaco, rendono protagonisti i Mori. I non colori diventano colori da accostare in un ambiente tanto tradizionale quanto di design, mentre la vivacità dei colori più moderni come il bordeaux, il giallo, il turchese, il verde foglia ect donano alle teste di Moro colore-testa-di-moro/ una spiccata personalità, quella che Agarèn insegue in ogni sua creazione.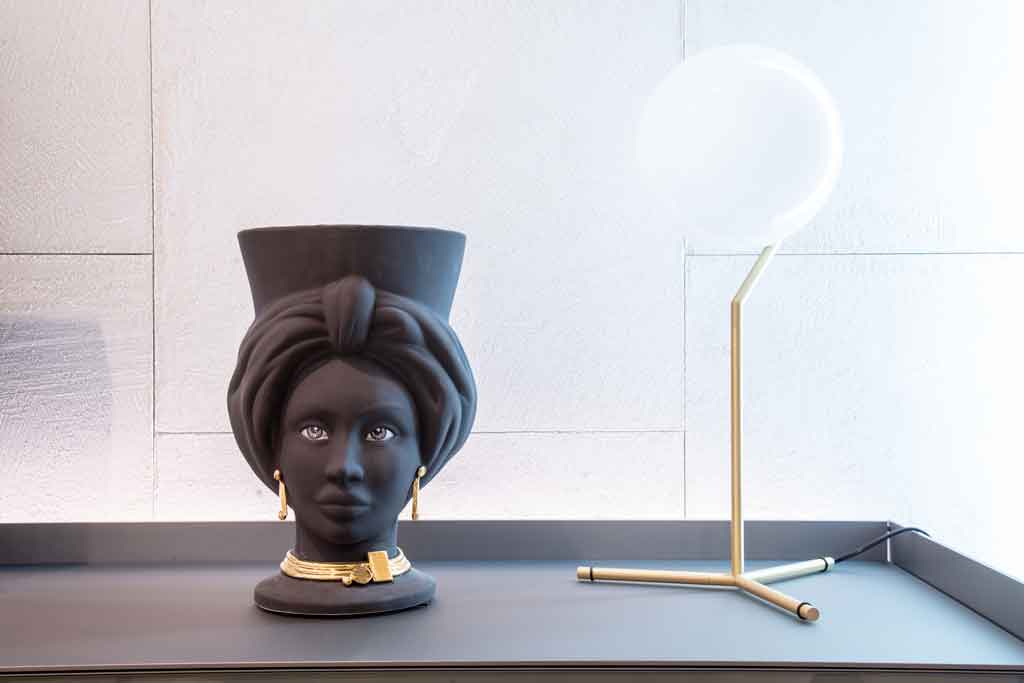 Lux Moorish Heads
Veri tesori d'artigianato siciliano. La sapiente applicazione dei metalli preziosi, quali oro e platino completa le diverse fasi di produzione, trasformando così le Moor's heads Agarèn in preziosi e raffinati oggetti di design.