Moor's heads: a story of love and jealousy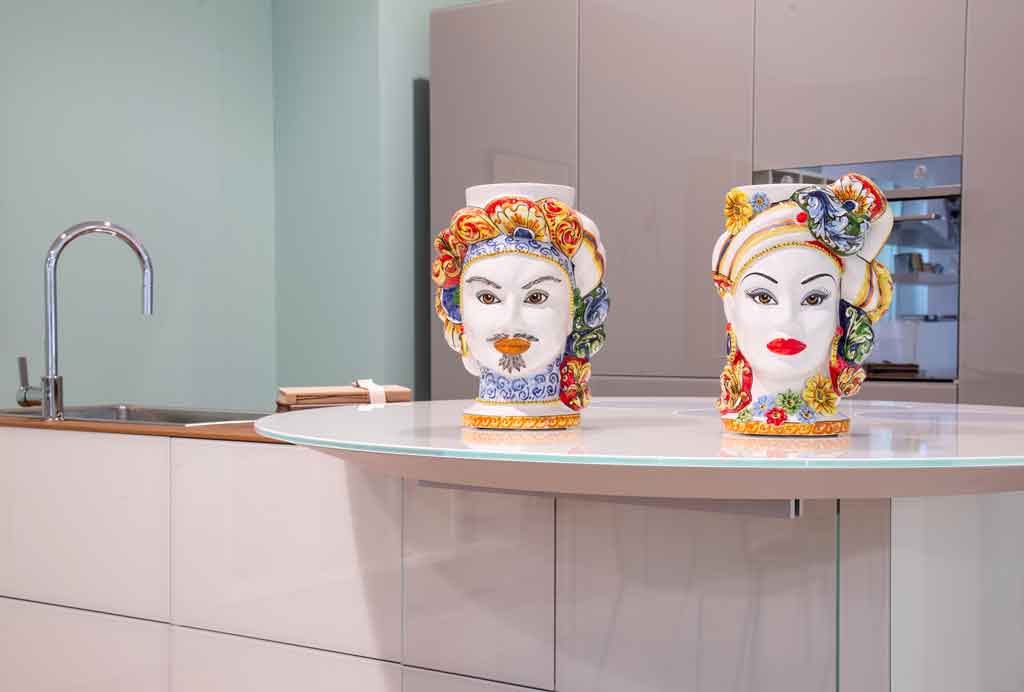 The Moor's heads are now one of the most well-known symbols of Sicilianity, as well as having become a design object with great artistic value, the result of Caltagirone's artisan tradition.
In Sicily, people used to come across these marvellous ceramic vases with anthropomorphic features by simply walking through the streets of the historic city centre.
Their tradition, in fact, is very ancient and dates back to a legend from the 1100s featuring a charming Moor and a young Sicilian maiden.
The legend tells that during the moorish domination in Sicily around 1000, in the arabic district of Palermo "al hàlisah" that a moor who, overwhelmed by a violent passion, declared his love to her.
Noticed means "the chosen one", a sweet girl the young girl charmed by his promise of love reciprocated. However, the moor was hiding a terrible truth. He already had a wife and children back home.
So, when the girl discovered it, she decided to keep his beloved face with her forever. Without hesitation, she cut off his head and create a vase in which she planted a basil shoot.
This aromatic plant has always had an aura of holiness as it represents the rulers' plant. In this sense, that terrible act was justified by her absolute love to continue to take care of her beloved young moor. Every day in fact, the tears of the young heart-broken girl watered the plant of basil that kept thriving and flourishing.
And all the neighbours, inebriated by that sent of the beautiful plant, started to commission clay vases shaped as a moor head.
Our collections are inspired by the deities of love worshipped in different cultures: ISIS, VENUS, EOSTRE, AINE, APHRODITE, ASTARTE. Each collection represents an original and unprecedented way of engraving the raw material through an esploration of both form and colour. ISIDE, EOSTRE, AINE, AFRODITE, ASTARTE. Ogni collezione rappresenta un modo originale ed inedito di incidere la materia prima attraverso un'esplorazione tanto della forma quanto nel colore.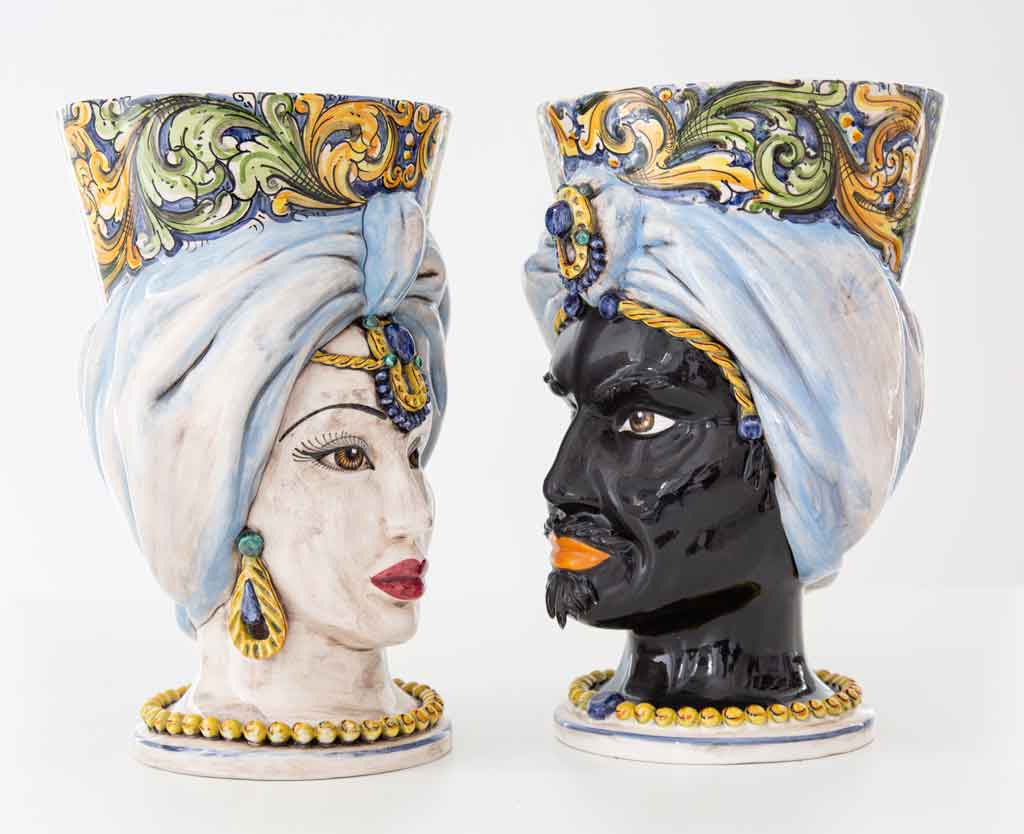 The Moorish Heads with typical decorations
The prevailing motifs are those inspired by the plant world, the Sicilian carts, the geometric and linear motifs to finally reach the traditional decor of Caltagirone. The use of yellow, cobalt blue and rummy green are in fact traditional techniques and colours whose echo continues to the present day.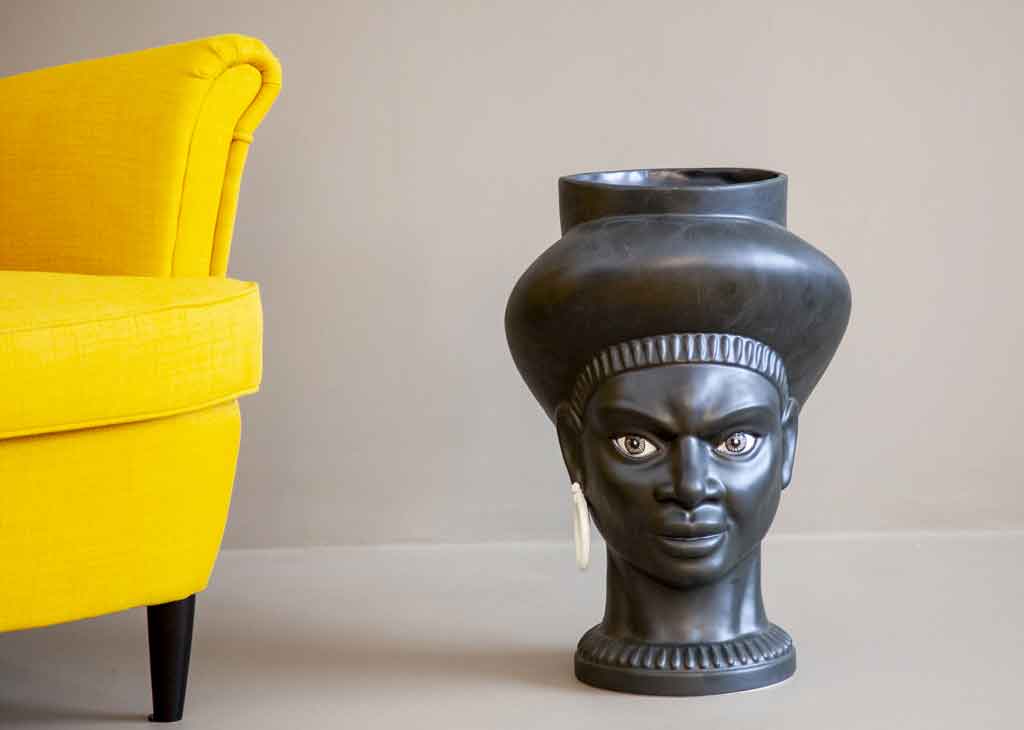 Monochrome Moorish Heads
Monochromatic ceramic is the expression of an art that, without chromatic features, conveys all its beauty. White and black, matte and glossy, make the Moors protagonists. Non-colours become colours that are combined with an environment which is both traditional and decorative.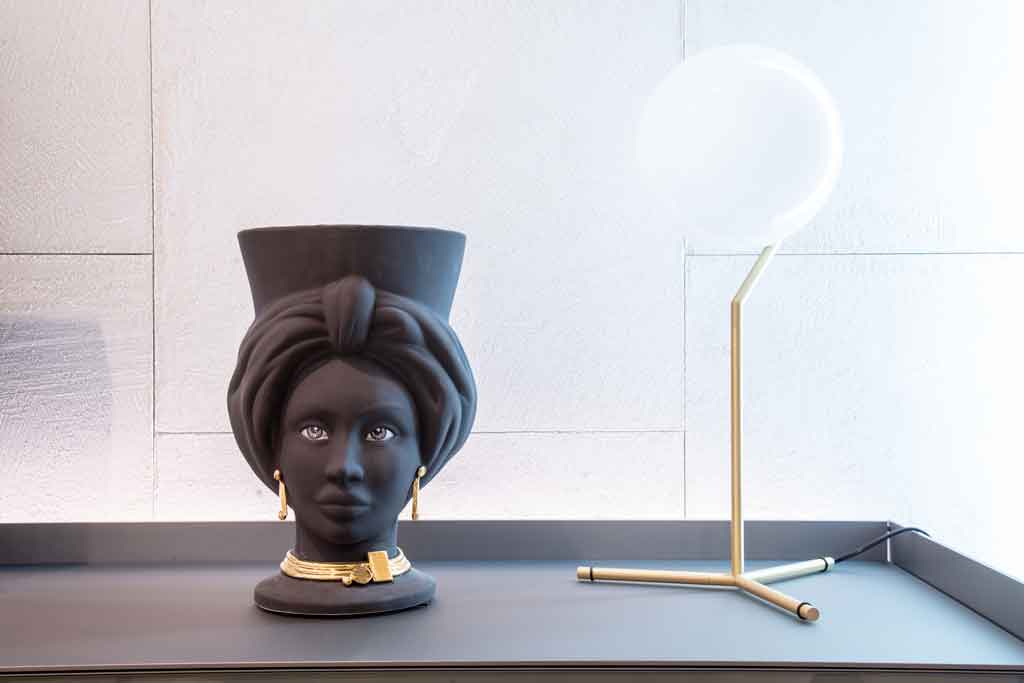 Lux Moorish Heads
Real treasures of Sicilian craftmanship. The skilful application of the precious materials, such as gold and platinum, completes the various production phases, thus transforming the Moorish Heads into precious and refined design objects.